Debra Weller – Storyteller, Educator, Consultant
Early Childhood Educator, Professional Storyteller and Parenting Educator. A creative performance artist with over 40 years experience using oral tradition storytelling, puppets and music to engage her audiences and students.Served the Early Childhood Educators in the State of California for ten years as Past President of the California Kindergarten Association. Debra has been presenting at international, virtual conferences and storytelling concerts.
Jaysree Prabaharan (MBPsS)
An enthusiastic and diligent professional in education and mental health, holding Graduate Membership from British Psychological Society. Completed a Master's in Clinical Child Psychology and a Master's in Applied Psychology. Worked with a diverse cultural and age range of individuals' mental health issues, including Learning Disability, autism, ADHD, anxiety, depression, PTSD as well as adults who have been victims of domestic violence and sexual abuse.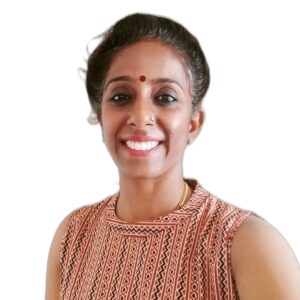 Meera V Barath
Meera believes that change is possible only when we can create something for us. For it to happen, writing/blogging is a meditation to her and reflecting the same through podcast or digital audio helps us to Share and create an ecosystem for ourselves
Meera after working in the corporate for 17 years took a break as motherhood looked totally out of syllabus, as she started writing about her experiences, a Tribe was formed and today it's 5 years that she started an online community into Writing, Storytelling and Training with 4000 members. Mayaakatha Hub is the venture she runs, it's a marketplace of Trainers, Mentors and Coaches with a Vision and Purpose of transforming words and emotions into stories and enabling people to build their brand and outcome.