We lay a strong foundation for enabling reading skills by focussing on basic phonics. Students will learn letter sounds, blending, segmenting, syllables which enable them to decode words and develop early reading fluency. Engaging activities, interactive classes, individual and peer learning make learning enjoyable and effective.
Advanced Phonics Building upon skills acquired in Level 1. Our advanced phonics level dives deeper into the intricacies of English Language. Students will explore complex phonics patterns, digraphs, blends and diphthongs. With a focus on word recognition and decoding strategies, learners will expand their reading fluency and comprehension abilities. Engaging stories, workbooks and interactive exercises will further enhance their reading skills.
Story Reading and Storytelling plays an integral part of the Level 1 and 2 courses that promotes critical thinking, comprehension, problem solving and creativity. Fosters a love for reading, communicating and learning.
Raising Confident Readers Workbooks (Level 1 & 2)
Our meticulously crafted workbooks are invaluable tools that greatly enhance the learning experience for children. Designed with their specific needs in mind, these workbooks serve as invaluable companions throughout their educational journey. Packed with engaging exercises, thought-provoking activities, and interactive content, our workbooks provide a hands-on approach to learning that keeps children actively involved and motivated.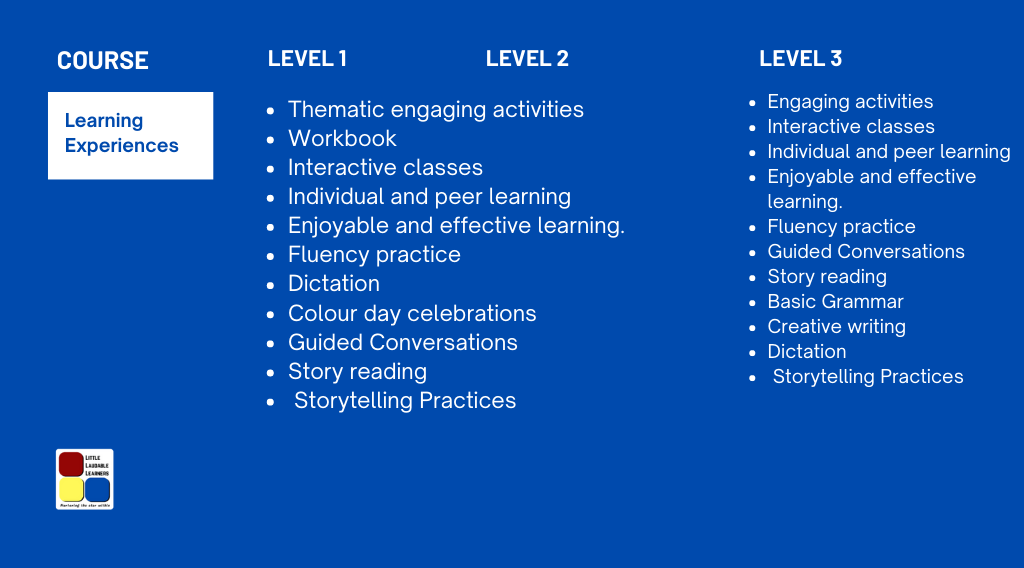 * Materials will be delivered only within India.Shipping charges are applicable for students outside India
Key features of Our Program:
1. Holistic Approach: Our program provides a well-rounded reading experience by integrating various aspects of reading, including phonics, vocabulary, fluency, comprehension, story reading, and storytelling.
2. Structured Curriculum: Our curriculum is carefully designed to ensure a progressive and systematic learning journey, allowing students to build upon their skills step by step.
3. Engaging Activities: We believe in making learning fun! Our program incorporates interactive games, engaging stories, and activities to keep students motivated and eager to learn.
4. Workbooks: Our workbooks are meticulously crafted to engage students in meaningful learning experiences.
5. Individualized Instruction: We understand that each learner is unique. Our program offers personalized instruction and differentiated learning strategies to meet the diverse needs of every student.
6. Experienced Educators: Our dedicated team of experienced educators are passionate about fostering literacy skills in young learners. They provide guidance, support, and mentorship to help students develop confidence and proficiency in reading.
7. Assessment: We conduct assessments at required intervals and will provide a report on the progress.
8. Show days: Show days are a reflection of what they learn in the classes. Students will showcase their skills acquired through the course. This amplifies their self esteem, confidence and helps them to practice public speaking.
3.5 years to 6 years based on Assessment
Enrol your child in Raising Confident Readers Program and embark on an enriching journey to unlock the power of reading. Equip your child with essential reading skills, ignite their imagination and set them on the path to becoming confident, lifelong readers.
Raising Confident Readers
A holistic reading program designed to empower young learners with essential skills for lifelong literacy. Our program is carefully crafted to enhance reading abilities and foster a love for reading through a comprehensive approach that encompasses.
Level 1 – Basic Phonics, Thematic activities, Fluency, Vocabulary, Comprehension, story reading, and storytelling.

Level 2 –  Advanced Phonics, Thematic activities, Fluency, Vocabulary, Comprehension, story reading, and storytelling.

Level 3 –  Advanced Phonics, Fluency, Vocabulary, Comprehension, basic grammar, creative writing, story reading, and storytelling.
The workbooks and attitude of teachers are brilliant.
Yes, She is increasing the exam score.
Lot of improvement to easily blend words. Thank u for the wonderful opportunity to make my kid to learn great things and even I follow you on Facebook and the shorts games are also doing my kids make active thank u Little Laudable Learners.
My kid very is interested in reading story books after the classes. Also her reading skills have improved a lot. Very useful clasess and I was amazed to see my kid blend words and reading.
Yes I could see developments in his reading skills independently.

Dictation is very crucial. Pl continue the same. Thanks to the entire team.
Yes, We are satisfied with the improvement.
Yes..now a days ready to read throwly without hesitation 👍

He is reading well & good 👍 communication skills excellent 👌👌
Good job mam
Absolutely Yes. I am seeing improvement in reading words with sound, phonics.

I like the way of teaching.
They teach with lot of innovative ideas. Thank you
We can see remarkable change in Angel reading. She now shows interest in reading.

We are highly satisfied with her progress. Your coaching has solved all my worries about her.
The kids are addicted to this class. That's the magic you have done.

An interesting and playful way of learning. Extremely lovable teachers.
Involvement of teaching staff and taking personal care.
The teachers are friendly with the children. It very special to 3L.

My daughter is very much interested in this program. 

I like your ways of teaching Sornapriya mam, Keep rocking the same  way. Thanks a lot.
I like that the classes are online which helps with managing my work and ensuring my child is able to attend classes as well. The English teacher Ms.Sorna is a gem - she genuinely loves what she's doing and it shows. There is no need for me to push my child to attend her classes, remind her to do her homework or sit next to her so see if she understands. I also see an improvement in her confidence level as a reader and her reading skills as well. I am no longer worried about her reading skills. All in all, a win-win for my child and me.
Deepti Abraham Parent of Lorica Abraham
Smart way of handling classes for the kids

Encouraging the students to showcase themselves. motivating them to participate in all educational based activities. Yes ,continuous improvement. Excellent curriculum, student friendly, good teaching. keep it up your good work
It has been a lovely journey with L3 so far. Ever since I took the demo class with them for my boy, I knew that I would wish to enroll my son once he is prepared for the online class...The sessions are interactive and lively. The teacher is  friendly and cheerful and takes extra effort to bring out the best in each child. The curriculum is also well designed. I hope my son's phonics skill will improve now that he is already enjoying the classes so much. Cheers!
Dhaval Bejoy (Karnav Bejoy's Mom), Jakarta, Level 1 Raising Readers Batch 5
Yes. This course has really helped him to improve his reading, writing, and coloring skills. Also his confidence in speech has also improved. He actively participated in speech competitions in his school and won 1 st prize on speech (Favorite sweet recipe and Arusuvai payangal) and 2 prize on Favourite festival". We feel proud to get positive comments from his school mam on his open day. This course reduces our burden to teach him, as he done his work on his own.. Many Thanks to Sornapriya mam and Sudha mam. Keep continuing.
The classes are awesome. My child learnt a lot. Teachers have a lot of patience. Sorna Mam and Sudha Mam now will be her friends. They moulded my child's communication skills. We are blessed to have gotten your classes. Before joining phonics classes she didn't know how to read. But she has learned to read her school lessons without our help. Every time she said she will be an English teacher like your staff. She enjoys the classes. Ur classes will be effective because teachers handle students very well. They never scold the students. Teachers' patience is appreciable. Here I thank Guvrav's parents for introducing this class. 200 percent appreciable.